Join us in September for a BRAND NEW round of 30 Days of Lists. Another quick journaling challenge. Another opportunity to record YOUR STORY. And the perfect, EASY way to record your RIGHT NOW story.
Blurb books and mini albums and art journals are amazing, but not everyone can make a mini scrapbook every week or an art journal page every night.
30 Days of Lists is our encouragement and challenge to you that you CAN journal just something every day – even something as small as a list. While you're waiting in line or just before bed, only 5-10 minutes per day are really needed. On your phone, on a notepad or even with paint and stamps and hand-binding. Your lists will tell your story and you can make them exactly what you want.
Every day through the month of September 2014 we will be posting a list prompt – anything from weekend goals to celebrity crushes. At the end of the 30 days you'll have a collection of entries creating a small snapshot of your life right now.
That's all.
Just write.
There's no wrong way to do this and if you don't like a prompt on a certain day, just change it.
We have something super special for Listers joining us in September 2014.
Created by Alexandra Rae Design, exclusively for 30 Days of Lists, we are so so so very excited to release this exclusive digital kit!!!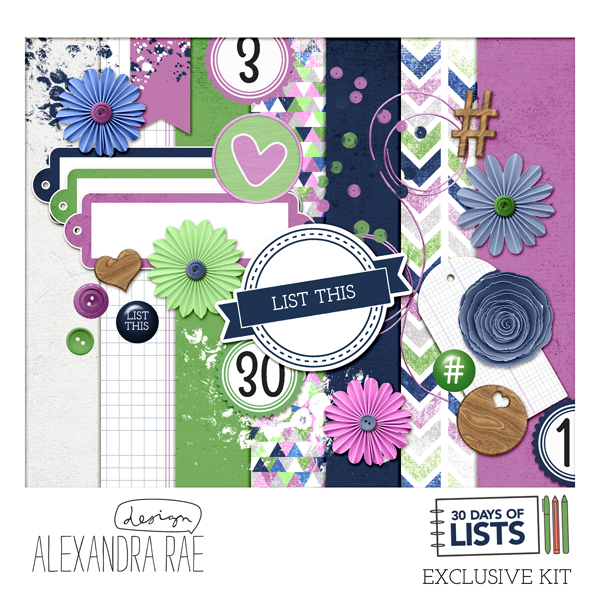 BEST PART: Everyone who registers before September 1 will get this 200+MB digital kit.
Learn more about the kit here.
Registration will open soon! In the meantime, make sure you are on the email list for news!