I am a Lister:
I am a Lister. Lists keep me on track and keep my scattered brain just a little bit more organized.  I am a "to-do lister;" a "things I love" lister; a "goals" lister; a "future projects" lister.  A "write it down or I will surely for get about it" lister.  I make lists every day.
Most importantly, I am a devoted #30Lists lister.  I'm passionate about #30Lists– the prompts, the books, the lists, the community. I love that such a simple concept– make a list every day!– has turned into a semi-annual event where Listers of all types get together and bond over something as simple as a list prompt.  While I may not have finished every list, every session– the prompts still always got me thinking, always got me creating in some way.
I love that 30 Days of Lists is creativity and inspiration in a super manageable form– a simple list.  And I'm all about the lists.

Now's the time!
We'd love for you to join us in March for another round of 30 Days of Lists. Another quick journaling challenge. Another opportunity to record YOUR STORY.
Not everyone can make a mini scrapbook every week or an art journal page every night.
30 Days of Lists is our encouragement and challenge to you that you CAN journal just something every day- even something as small as a list.
Every day through the month of March 2013, we will be posting a list prompt – anything from weekend goals to celebrity crushes. At the end of the 30 days you'll have a collection of entries creating a small snapshot of your life right now.
Only 5-10 minutes per day are really needed. While you're waiting for someone, or when you're the passenger in the car. You can even download the list topics ahead of time to get a jump start!
That's all.
Just write.
There's no wrong way to do this and if you don't like a prompt on a certain day, just change it.

What does registration include?
Once you register you will receive an automatically downloadable file giving you access to the private blog for March 2013's 30 Days of Lists.
The #30Lists challenge blog is open immediately (and will remain available for at least a year).
Upon logging in, you'll have immediate access to:
private forum just for March #30Lists participants
printable downloads with ALL of March's list topics (for those of you who want the topics ahead of time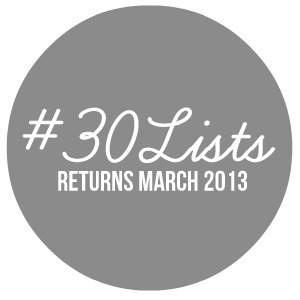 Throughout February, we'll introduce:
tutorial on adding images to the Flickr group
tutorial on using the #30Lists hashtag for Instagram
tutorial on using the forum
additional exclusive list-related DIY project
introductions to our sponsors
Kam and Amy's individual #30Lists books
'your take' on the #30Lists book covers
Starting March 1:
1 new list topic will be posted each morning
additional exclusive tutorials
additional giveaways
list topics hosted by some of our sponsors
'your take' posts high-lighting the lists all of you are making
Start stocking up on your sticky-notes, ordering notebooks from your favorite online sellers, or creating a journal of your own to house your lists, March 1st will be here before we know it.
The daily list prompts won't start until March 1st, but you can trust us when we say that it's an excellent idea to check the private blog regularly between now and then for tutorials, updates, and maybe a giveaway or two.
Also, it isn't too early to get to know your fellow Listers!
Speaking of the list prompts, they will be available on a daily basis shortly after 2:00 a.m. Pacific time. If you would rather have all of the lists at once, feel free to print them out in the 'Printables Section' of the private blog.


 Allie Trumpower of Alexandra Rae Design and Document Life Workshop is a crafty designer, a photographer, and is marketing obsessed. She loves list making, great design, memory keeping, pinterest, twitter, and instagram– and loves meeting new people via social media! Follow along with her lists and everyday life & sarcasm on twitter and instgram at @abandy.
Meet the other Listers:  Kristin + Kam + Jennifer + Amy + Megan